The Dartmouth Club of Los Angeles organizes a wide range of activities for our highly diverse alumni base and their families.
Reservations and cancellations to DCLA events are most easily made online by all registered users of this website. Reservations and cancellations can also be placed by email at admin@dartmouthla.org.
Reservation/Cancellation Policy
---
Date: Monday, May 29th
Time: 3:00pm - 4:30pm
Place: Defenders Parkway West at the Corner of Colorado Blvd and Orange Grove, Pasadena, CA
Corner of Colorado Blvd and Orange Grove, Pasadena, CA
Cost: Free for Everyone (Free for Everyone)

The Dartmouth Uniformed Service Alumni (DUSA) and DCLA cordially invite you to this dedication ceremony in memory of Pasadena's 11 warrior heroes and in honor of service members and veterans. The afternoon will include a condor flyover, keynote speakers, and patriotic music.
One of the heroes to be honored is Scott Studenmund, a US Army Green Beret KIA June 2014 in Afghanistan. Scott is the brother of Connell '16, son to DCLA & DUSA members Jaynie & Woody P'16, and nephew to Jim Miller '74. Event Flyer.
On One of the Keynote Speakers - Green Beret LT Colonel David Diamond: 
LT Colonel David Diamond was Scott Studenmund's Commanding Officer for 1/5 Special Forces Group (Airborne) at Ft Campbell. He has combat deployed 7 times and has a keen understanding of our Nation's warrior heroes and veterans who have engaged in combat. In September 2016, Diamond was awarded the rarely given "Soldiers Medal" by Senator John McCain and Secretary of the Army Eric Fanning '90 for distinguishing himself through heroism at the Boston Marathon bombing. Diamond, who had just completed the marathon, was adjacent to the first blast. He immediately recognized the noise as a bomb, ran toward the injured when the second blast went off less than 50 feet away, and triaged over 20 injured before advanced trauma personnel arrived on the scene. Diamond, like Scott and others in our military, are true American heroes.
On the Enduring Heroes Memorial Sculptor:
Christopher Slatoff, the Enduring Heroes sculptor, is a noted local artist. Chris created a 9-foot bronze statue of a soldier triumphantly brandishing an American flag. The statue, which will be located at the corner where Pasadena's Rose Parade begins in a park called Defenders Park West, is destined to become a Pasadena landmark.
Please join us in Pasadena on Memorial Day as we honor Scott Studenmund and our Pasadena warrior heroes. 
---
Date: Monday, May 29th
Time: 11:30pm - 12:05pm
Place: The Green at Dartmouth College
Dartmouth College, Hanover, NH
Cost: Free for Everyone (Free for everyone)

Dartmouth Uniformed Service Alumni (DUSA) will place a wreath at the foot of our campus flagpole to honor all veterans who served their country in all wars and who made the ultimate sacrifice.
Dartmouth College President Philip J. Hanlon '77 will assist in placing the wreath. Honor Guard by Dartmouth Army ROTC cadets.
The entire community is invited to attend.
---
Date: Saturday, June 3rd
Time: 9:00am - 6:00pm
Place: 30 minutes into the Angeles National Forest from Azusa
145 N Azusa Ave, Azusa, CA 91702, USA
Cost: $5 for Everyone ((trailhead parking fee, paid directly to the forest service))

What do we need in the middle of the forest, far from the nearest road?  
A highway bridge, of course!  
Built in the 1930s for an under-construction highway, the Bridge To Nowhere is all that remained after a powerful storm washed the incomplete highway away, and forced the abandoning of the project.  Today, this highway bridge far from any highway is an oddity that makes a great hiking destination.  
With lots of refreshing pools of water to dip in as the hike follows the San Gabriel River, this is the perfect hike for early summer.  Come join us as we check out one of our favorite hikes in the area!  
DIFFICULTY:  Challenging.  ~9 miles round-trip.  Negligible elevation change.  Several river crossings that involve wading through water above your knees.  Experienced hikers might consider this hike more "moderate" than challenging.
DOGS:  Dogs are welcome, if they are physically up for the hike.  
CHILDREN:  Any child physically capable of doing a long hike is welcome, as are any young toddlers whom you're willing to carry the whole way in your child-carrier backback.  This hike is NOT recommended for any child too big to ride in a child carrier, but not physically up for a long hike.  
Hike group will meet up at a gas station in Azusa, where trailhead parking permits can be purchased, and then we will caravan on to the trailhead.  Details will be emailed to the RSVPed.
Due to ferocious competition for parking at this trailhead, car-pooling is strongly recommended.  If you are interested either in having car-pool riders in your car or in riding in a car-pool, please click here to indicate your interest, and then click here to see who else is interested, and then reach out to fellow car-poolers.  Car pooling option is not guaranteed, and car-poolers need to coordinate with each other to make arrangements.  
RSVP REQUIRED:
June 3rd
RSVP
---
Date: Sunday, June 11th
Time: 1:10pm - 4:00pm
Place: Dodger Stadium
1000 Vin Scully Ave, Los Angeles, CA 90012
Cost: $30 for Member ($30)

Come join us and watch the Dodgers take on the Cincinnati Reds on Sunday June 11th. 
We will be sitting in the Reserve section right behind home plate. Hurry and get your discounted tickets(normally $45) as we have a limited number of seats. Once you RSVP and pay for your ticket(s), we will email the ticket(s) to you.
Our seats will be in the shade!
Don't forget to purchase parking in advance at a reduced rate: Dodgers Stadium Parking
RSVP REQUIRED:
June 10th
RSVP
---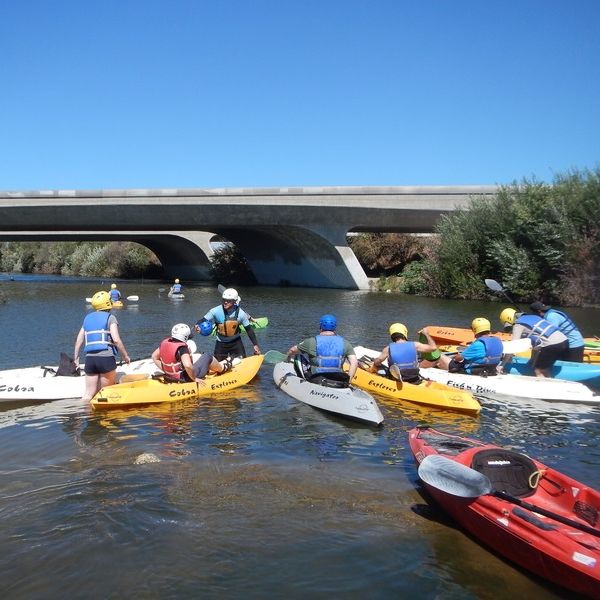 Date: Sunday, August 13th
Time: 12:00pm - 3:30pm
Place: L.A. River Sepulveda Basin (near intersection of the 101 and the 405)
5608 Woodley Avenue, Lake Balboa, CA
Cost: $41 for Member, $50 for Non-Member

Who'd have known that you can kayak through Los Angeles? Most people only ever see the L.A. river as they cross a bridge over it. A little known secret is that, through all the human efforts to tame it, the L.A. River is still a vibrant ecosystem right in the middle of our developed urban landscape!
Join us to escape the usual mid-August LA heat wave with a refreshing paddle through the cool waters of this wilderness that winds its way through the City of Angeles!
The L.A. River Sepulveda Basin (near the intersection of the 405 and the 101) is a gentle section of the river, so no previous experience is necessary. Kayaks, paddles, lifejackets, etc. will be provided by a professional outfitter, along with basic paddling instruction.
This trip normally costs upwards of $50, but DCLA has negotiated a deal for its members. Take advantage of this incredible price!
Minors must be at least 10 years of age, and their parent or legal guardian must also be attending this event.
TO ATTEND THIS EVENT, YOU MUST DO BOTH OF THE FOLLOWING:
RSVP via the button below.  


Check email address you provided in step one for invoice email, and follow payment instructions there.  



Invoice email won't be automatic, but will be sent within one business day of your RSVP.  If you haven't recieved the invoice email within one business day of your RSVP, please email DartmouthLA@gmail.com


If you have not yet paid your 2017-2018 DCLA dues, consider clicking here to do so.  Doing so will get you a discount on this event and future events!  


Payment for this event is non-refundable.  
YOUR SLOT IN THE EVENT IS NOT RESERVED UNTIL PAYMENT IS RECEIVED.  We will email you within one business day to confirm your payment and reservation.  
RSVP REQUIRED:
August 11th
RSVP
---