The Dartmouth Club of Los Angeles organizes a wide range of activities for our highly diverse alumni base and their families.
Reservations and cancellations to DCLA events are most easily made online by all registered users of this website. Reservations and cancellations can also be placed by email at admin@dartmouthla.org.
Reservation/Cancellation Policy
---
Date: Thursday, July 27th
Time: 6:00pm - 9:00pm
Place: Preux & Proper
840 S Spring St, Los Angeles, CA 90014
Cost: Free for Everyone (Free)

Join us at 6 PM on Thursday, July 27th for our next installment of the quarterly happy hour series at Preux & Proper in Downtown LA. Come kick off the weekend early with fellow Dartmouth alums and happy hour specials until 7 PM. Appetizers will be provided courtesy of the Dartmouth Club of Los Angeles. 
Parking: There should be ample lot parking across the street of Preux & Proper on both sides for $10.
RSVP REQUIRED:
July 27th
Please RSVP to aid in planning.
RSVP
---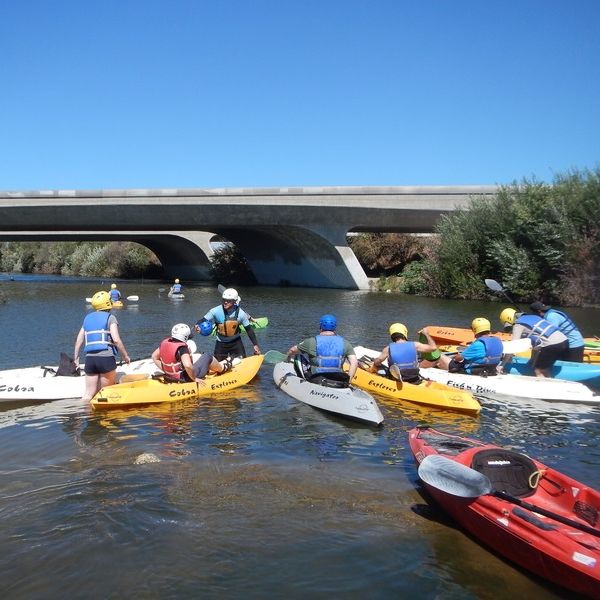 Date: Sunday, August 13th
Time: 12:00pm - 3:30pm
Place: L.A. River Sepulveda Basin
5608 Woodley Avenue, Lake Balboa, CA 91406
Cost: $41 for Member, $50 for Non-Member ($41/person member rate applies to DCLA members [if dues-paid for current fiscal year] and to their guests in their RSVP. )

WE HAVE RECEIVED OVERWHELMING INTEREST IN THIS EVENT. AS A RESULT, WE ARE CURRENTLY FULLY BOOKED. WE NOW HAVE A WAITING LIST. SHALL THINGS CHANGE, WE WILL EMAIL YOU  ON THE FIRST COME FIRST SERVE BASIS.
Waiting list: click here
Who'd have known that you can kayak through Los Angeles? Most people only ever see the L.A. river as they cross a bridge over it. A little known secret is that, through all the human efforts to tame it, the L.A. River is still a vibrant ecosystem right in the middle of our developed urban landscape!
Join us to escape the usual mid-August LA heat wave with a refreshing paddle through the cool waters of this wilderness that winds its way through the City of Angeles!
The L.A. River Sepulveda Basin (near the intersection of the 405 and the 101) is a gentle section of the river, so no previous experience is necessary. Kayaks, paddles, lifejackets, etc. will be provided by a professional outfitter, along with basic paddling instruction.
This trip normally costs upwards of $50, but DCLA has negotiated a deal for its members. Take advantage of this incredible price!
Minors must be at least 10 years of age, and their parent or legal guardian must also be attending this event.
CAR-POOLING: click here if you're interested in driving or riding in a car-pool to/from this kayaking trip (opens in new tab).  Click the "add car" icon if you'd like to have car poolers ride with you, and look for cars already listed if you'd like to ride in a car pool (if none are listed yet, join the car-pool rider waitlist on the right side of the page).  
TO ATTEND THIS EVENT, YOU MUST DO BOTH OF THE FOLLOWING:
RSVP via the button below.  


Check email address you provided in step one for invoice email, and follow payment instructions there.  



Invoice email won't be automatic, but will be sent within one business day of your RSVP.  If you haven't recieved the invoice email within one business day of your RSVP, please email DartmouthLA@gmail.com


If you have not yet paid your 2017-2018 DCLA dues, consider clicking here to do so.  Doing so will get you a discount on this event and future events!  


Payment for this event is non-refundable.  
YOUR SLOT IN THE EVENT IS NOT RESERVED UNTIL PAYMENT IS RECEIVED.  We will email you within one business day to confirm your payment and reservation.  
RSVP REQUIRED:
August 11th
To aid in the planning of this event, RSVP by August 11th. Please include the first and last name, and Dartmouth class (if applicable), and ticket preference of each attendee. If any attendee is less than 10 years, please let us know that, too. Please register early. Reservation/Cancellation Policy
To first time users of this website:
To RSVP for an event, whether or not you are a Dartmouth alum or Dartmouth Club of Los Angeles member, you must first Register as a User on our site. Registration is free, easy, and happens only one time. Once registered, you can then RSVP for events.
RSVP
---
Date: Monday, August 14th
Time: 3:15pm - 5:45pm
Place: UC Irvine - Crawford Athletic Fields
903 W. Peltason Drive, Irvine, CA 92617
Cost: Free for Everyone (No cost to attend but please purchase parking in advance for $10)

The Dartmouth Club of Orange County, The Los Angeles Rams, and LA Rams COO & EVP Kevin Demoff '99 T'06 cordially invite DCLA to attend their LA Rams VIP Meet & Greet & Practice at the Rams Training Camp in Irvine, CA. 

RSVP early as space is limited to 150 total this year (DCLA had 205 attendees when we organized this event last year). The Rams will issue VIP name tags for entry.
Dartmouth will have a VIP tent on the sidelines where we will have a chance to meet Rams COO & EVP Kevin Demoff ' 99 T'06 and either Rams Head Coach Sean McVay or General Manager Les Snead
We will have access to Rams Wide Receivers and Running Backs for autographs
The practice begins at 3:30pm but you may wish to arrive early for parking or to avoid traffic. Gates open 90 minutes prior to practice start time. 
For more info on Rams training camp:  http://www.therams.com/ramscamp.html
Parking: Purchase parking in advance for $10 (parking onsite is $14) at: http://www.parking.uci.edu/rams/parkingpasses.cfm
Many thanks to the Dartmouth Club of Orange County and event organizer Reggie Martin '04 Th '05, the Rams, and Kevin Demoff '99 T'06 for their generous invitation!

RSVP Required by August 7, 2017. RSVP with full names of all attendees directly to Reggie Martin '04 Th'05 at: Martin.reginald@gmail.com
RSVP
---
Date: Friday, September 1st - Sunday, September 3rd
Time: 7:00pm - 1:00pm
Place: Various Locations
Los Angeles
Cost: Free for Everyone (Free)

Come out to support Dartmouth Women's Soccer as they take on Cal State Long Beach in Long Beach on Friday, September 1st at 7pm and Pepperdine in Malibu on Sunday, September 3rd at 1pm.
More information on their schedule.
---
Date: Thursday, September 7th
Time: 7:00pm - 9:00pm
Place: Pomona College Museum of Art
330 N College Ave, Claremont, CA 91711
Cost: Free for Everyone (Free)

As part of the exhibition at Pomona College Museum of Art, Prometheus 2017: Four Artists from Mexico Revisit Orozco, Dartmouth Associate Professor of Art History, Mary Coffey, will lead a gallery talk with artist Isa Carrillo, discussing Carrillo's explorations of Jose Clemente Orozco's identity through astrology and palmistry. Coffey's essay "Putting Orozco's Prometheus in Motion: Reframing Mural Art's Meaning for Contemporary Art Practice" which examines Orozco's Prometheus mural is featured in the exhibition's catalog. For more information: https://www.pomona.edu/museum/exhibitions/2017/prometheus-2017
RSVP REQUIRED:
September 7th
RSVP
---
Date: Wednesday, September 27th
Time: 7:00pm - 9:00pm
Place: Burbank Public Library, Buena Vista Branch
300 N. Buena Vista Street, Burbank, CA 91505
Cost: Free for Everyone (Attendees may purchase a book onsite for autograph)

Meet #1 New York Times Best-selling author Mark Bowden, author of Black Hawk Down. Join his presentation and secure an autograph on his new NYT best-seller Hue 1968: A Turning Point of the American War in Vietnam. 
Press Release  
More Book Info
With a tale that resonates today, the New York Times bestseller HUE 1968: A Turning Point of the American War in Vietnam presents not only the story of a battle, but of a pivotal moment in American history. Not since his #1 New York Times bestseller Black Hawk Down has author Mark Bowden written a book about a battle with such scope.
"This history reads as fresh as today's news," said Military Times in its review.  The Wall Street Journal called it "an extraordinary feat of journalism."
HUE 1968 is one of the most heavily researched and reported accounts of combat in the Vietnam War, and one of the first to tell the story of an engagement in that war from both sides. "The Battle of Hue," says Bowden, "becomes a lens to the entire Vietnam War: the betrayed idealism, the lies, the strategic successes and blunders, the cruelty and waste, along with the undeniable heroism and sacrifice on both sides."
It was a twenty-four-day battle involving 20,000 combatants and resulting in over 10,000 deaths, of soldiers and civilians, making it the deadliest of the whole American War in Vietnam.
Bowden will be on tour throughout the fall to speak about the book in various venues.  For updates, visit www.Hue1968.com
Additional Location: Mark will also be signing books in Pasadena, CA on Tuesday, Sept. 26, 2017 at 7 PM at Vroman's Bookstore, 695 E. Colorado Blvd, Pasadena, CA 91101
RSVP REQUIRED:
September 27th
RSVP
---
Date: Saturday, November 11th
Time: 6:00pm - 10:00pm
Place: The Langham Boston Hotel
250 Franklin Street, Boston, MA 02110
Cost: $95-105 for Everyone, $85-95 for Young Alum Member (Ticket Cost Varies Depending on Entree Selection)

The Dartmouth Uniformed Service Alumni (DUSA), in partnership with the College, student veterans organizations, and the Dartmouth Club of Greater Boston, cordially invite you to honor our veterans in Boston – our first Banquet outside of Hanover. The Banquet takes place one day after the Dartmouth vs. Brown football game at Fenway Park on Fri, Nov 10, 2017 as we kick off our Veterans Weekend. More Veterans Weekend Info

The Banquet includes a Cocktail Reception with Hors d'oeuvres, Three-Course Meal with Wine Pairings and Coffee/Tea, Silent Auction, and Presentations.
We will honor all of our veterans with a focus on our Vietnam Veterans. 
President Emeritus James Wright '64A has graciously accepted our invitation as keynote speaker.
We will present the 5th Annual James Wright Award along with tributes and service awards.
Performances by The Sing Dynasty a capella group members Parker Banks '20 and Alice Bennett '20, who have performed at the USS Arizona Pearl Harbor Memorial and The White House. 
Thanks to a generous donation by Terry Keible, in memory of her late husband Ed Keible '65, one of DUSA's beloved founding fathers, and a veterans discount by The Langham Boston, DUSA is able to provide tickets below cost. As always, Dartmouth student veterans may attend for free. 

On Keynote Speaker Dartmouth College President Emeritus James Wright '64A: A USMC veteran and American historian, Jim is the author or editor of six published books, including Those Who Have Borne the Battle: A History of America's Wars and Those Who Fought Them and Enduring Vietnam: An American Generation and Its War. He serves on the Boards of the Semper Fi Fund/America's Fund and Iraq and Afghanistan Veterans of America (IAVA), the Advisory Board of the Marine Corps Scholarship Foundation, and the Campaign Leadership Committee for the Vietnam Veterans Memorial Fund Education Center. Full Bio on President Emeritus James Wright '64A
The winner of the 2017 James Wright Award for Distinguished Service will be determined in September 2017.  DUSA presents this award annually to an individual member of the Dartmouth community who has served in the military and who, over the course of a lifetime, has exemplified the ideals of "Service – College – Country."
All are welcome to join as we honor our veterans on Sat, November 11, 2017 in Boston!
RSVP
---